Nominated in the Portland Phoenix Best Music Poll 2013 (Blues category) - Being included says a lot about the talent and hard work Hooper has put in to gain this recognition.

 "Living in Nashville, I was fortunate to work with hit singer/songwriters and publishers. Brad possesses the same qualities of a first-class songwriter and with a classic voice to match! There is a real [John Prine, Neil Young] thing going on and people need to hear it."
Michael Rizzo - Award-winning producer with 
EpicSoul.com (NBC, CBS, ABC, FOX, UNIVERSAL, DISNEY, etc.)

GOT THIS LOW, GOT BACK UP - There's the temptation to treat music like baseball, judging it by statistical reasoning, points for unique songwriting, tasteful production, and maybe a bonus for packaging. Then along comes a guy like Brad Hooper who confounds the numbers and gets by on the intangibles…there are some fine performances.
"The opener, 'Sinkin' Kind of Feelin',' is piano-fueled blues, almost dead-on Royal Albert Hall-era Clapton…
…when Hooper tells us 'if it wasn't for them blues, when I got this low, I'd have nothin' at all,' it spills out of him, like it was forced from within." (Click
here
to read more.)
Sam Pfeifle – Portland Phoenix, August 2011

There's a new troubadour in town, name of Brad "Squintwood" Hooper, and he will knock your goddamn socks off. Sure, it's traditional folk/blues, but this dude plays and sings with real soul and knows how to write a song ( see his album, Midnight at the Hilltop Hotel for proof.)
As Midnight at the Hilltop Hotel proves, Hooper's paid a lot of dues and deserves every scrap of attention that comes his way. This guy's the real deal. No flash, no gimmicks, no solos, just solid guitar playing and soulful vocals applied to honest, original songs set within traditional folk and blues structures. (To read the entire review click
here.)
Chris Busby - The Bollard - July 15th, 2009


The difference between here and then
- a comeback story - 
TAKING THE PLUNGE – Brad Hooper sings the blues, and, after living them, is ready to start a new life and a new adventure....
..."Once the train left the station it rolled hard and there was no slowing down. It brought out the raw element of the songs. It also enabled me to drop my inhibitions and explore the emotions of the crowd. Interaction and incitement were at their best. Unfortunately there are consequences involved with any addiction"..."I do not remember hitting the water," Hooper shook his head. "I was sound asleep when I careened down the bank and toward the river."
Click
here
to read entire story.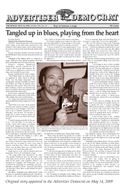 "Brad Hooper may not have been born with a guitar in his hand and a harmonica in his mouth as Arlo Guthrie claims, but he sings of laughter and loss with all of his heart. When people listen to Hooper's music they will hear the truth from a soul that's just a deeper shade of blue."
Jackie Rybeck – Advertiser Democrat  - Please click the link to read more. AD_Dem_story.pdf